Supporting a Loved One With OCD
This interactive group workshop is designed for adult family members, friends, and partners who: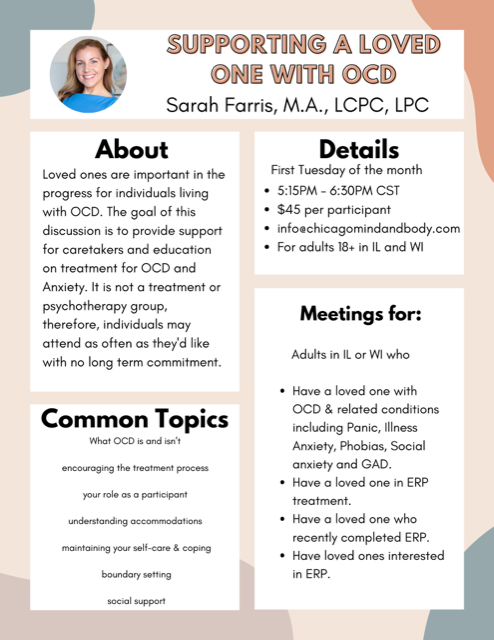 have loved ones with OCD and related conditions like panic disorder, illness anxiety, social anxiety, phobias

and / or have loved ones in ERP treatment, recently completed treatment, or are interested in beginning ERP.

Are located in IL or WI
Loved ones are an important in the progress for individuals living with OCD. The goal of this workshop is to provide support for caretakers and education on treatment for OCD and Anxiety. It is not a treatment or psychotherapy group, therefore, individuals may attend however often they would like.

Details:
Virtual meetings occur on the 1st Tuesday night of the month from 5:15 – 6:30pm CST.
The cost is $45 per participant
Interested individuals can contact for a brief screener.
CONTACT
Chicago Mind and Body
4256 N. Ravenswood Ave
Chicago, IL 60613
info@chicagomindandbody.com
FREE CONSULTATION
You can request a free consultation via email or phone.